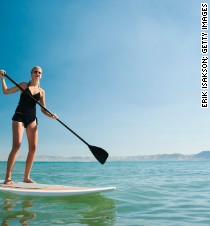 Whether it's wine tasting in Italy or a backyard barbecue at your pal's beach house, most summer getaways involve major food indulgences. Plus, many jetsetters adopt an all-bets-are-off mindset, allowing healthy eating habits to go totally out the window during travel.
"A vacation eating attitude typically means indulging in the moment and worrying about the consequences later," says Health's contributing nutrition editor, Cynthia Sass, RD. And research agrees: A recent study out of the University of Georgia found that some people who take one- to three-week vacations put on nearly a pound during their trip, while others gain as many as seven pounds. (Yikes!)
To help you avoid the same fate on your next summer vacay, we asked experts to share their no-hassle nutrition practices that keep any trip from turning into a gluttonous getaway. By following these tips, the only thing you'll have to worry about packing is your bags, not any extra flab.
Control your morning meal
"I never eat at buffets unless they're included or my only choice," says Sass. "And if so, I stick with customizable dishes, like a made-to-order omelet with lots of veggies and avocado paired with fresh fruit, or a made-to-order stir fry that allows me to choose lots of veggies, lean protein, and light sauce with a portion of brown rice that I can control." You could also regulate portions by ordering a la carte, or treating yourself to room service if necessary.
If you do decide to stick to the buffet, don't feel obligated to eat everything in sight. "Even if I have to pay for a buffet and don't eat much, I don't see it as not getting my money's worth," Sass explains. "I tell myself I'd rather pay more for a correctly sized meal that leaves me feeling energized, rather than getting more food for that amount of money that leaves me feeling stuffed and sluggish. It's just not worth it, especially if it zaps your energy for the whole day on vacation."
Take the long way
Whether it's walking to dinner, jogging to a museum, or taking a paddleboarding break from reading on the beach, move as much as you can — even if it means taking a bit of a detour (an adventure in itself!). "Plan extra — and fun — activity into your itinerary so you can have extra delights at your destinations to fully enjoy your travel experience," Newgent says.
Read more: http://www.cnn.com/2016/05/20/health/avoid-vacation-weight-gain/index.html