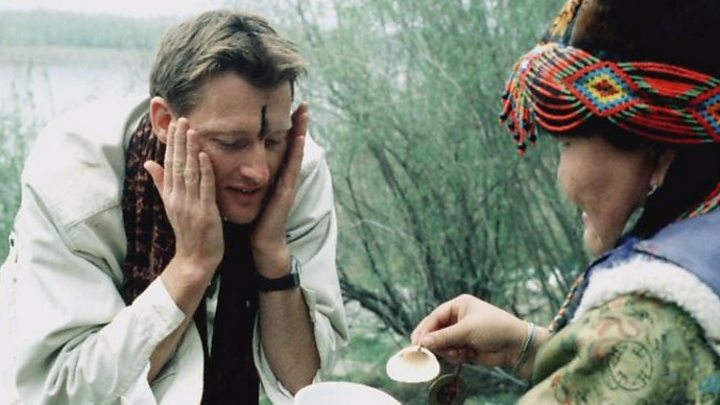 A search has been mounted for British explorer Benedict Allen, whose family say has gone missing during an expedition to Papua New Guinea.
The 57-year-old was travelling on his own to try to find the reclusive Yaifo tribe, whom he first met 30 years ago.
His sister says she was expecting to hear from him by Monday – and he hasn't taken planned flights home.
A helicopter pilot, who dropped Mr Allen off several weeks ago, is trying to find him, the BBC has learned.
Our security correspondent Frank Gardner, who recently travelled through Papua New Guinea with Mr Allen for a BBC documentary, said he understood the pilot was tracking Benedict's route from his starting point in a remote place called Bisoria.
They have spoken to local police chiefs, and were looking to locate him by helicopter and get him out, our correspondent said.
'Ghastly worry'
He added that the former UK high commissioner to Papua New Guinea, David Gordon-Macleod, said "huge areas of the country have no mobile coverage", meaning that even if Mr Allen had reached a village, he is likely to still be out of contact with the outside world.
Mr Allen's older sister, Katie Pestille, said it was "out of character" for him to miss his scheduled flight out of Papua New Guinea to Hong Kong.
"It's ghastly," she told BBC Radio 4's Today programme.
"For everybody else, it's very exciting – all the expeditions and all the things he does, but for his sister and his wife, it's more of a worry," she explained.
---
Who is Benedict Allen?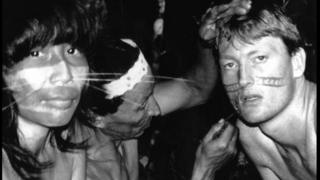 First solo adventure: To the Amazon at 22, during which he was shot at by two hitmen
Tough time: An initiation into manhood in Papua New Guinea. He was kept in a "crocodile nest" with 20 others, and repeatedly cut with bamboo blades to leave scars that looked like crocodile scales
Low moment: Eating his own dog to survive
Travel habit: Always keeps loo paper in a back pocket. "You know how it is," he tells the Lonely Planet.
Philosophy: "For me personally, exploration isn't about conquering nature, planting flags or leaving your mark. It's about the opposite: opening yourself up and allowing the place to leave its mark on you."
Career: Six TV series for the BBC, author, motivational speaker
Family: Lives in Twickenham, south-west London, with his wife and three children
---
Mr Allen, from London, has previously crossed the Amazon Basin on foot and in a dug out canoe, and participated in a six-week male initiation ceremony in which crocodile marks were carved onto his body.
He has filmed a number of his adventures for BBC documentaries and written books on exploration.
The Foreign Office said its staff were assisting family members and were in contact with local authorities.
---
'Normal schedules don't apply'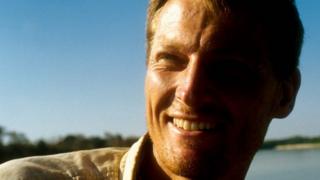 By BBC Security Correspondent Frank Gardner
Travelling in Papua New Guinea is hugely unpredictable and normal schedules don't apply, so there is a good chance that Benedict Allen has been detained by natural causes.
Landslides, torrential downpours and sometimes an eruption of fighting between local tribes can all throw itineraries off-course.
Foreign travellers though, are rarely targeted outside the main towns.
Knowing Benedict, it is also quite possible that he has accepted an invitation to stay on longer for a tribal ceremony – it can also be considered an insult to refuse.
The Yaifo tribe who Benedict visited in the 1980s initially greeted him with suspicion and hostility but then accepted him.
He told me last month, just before he set off, that he had no idea how they would receive him, or even if he would be able to find them in such a remote part of the country.
---
'Bows and arrows'
In a blog posted in September, Mr Allen described his plan to assemble a group at an abandoned mission station in Bisorio before heading into the remote jungle.
His aim, he said, was to create a brief record of the lives of the Yaifo and track down some of those he met on his last visit.
"Last time, the Yaifo 'greeted' me with a terrifying show of strength, an energetic dance featuring their bows and arrows," he said.
"On this occasion who knows if the Yaifo will do the same, or run off, or be wearing jeans and T shirts traded eons ago from the old mission station.
"But of course I may not even make it there – even aged 26, it was a very hard hike up through rather treacherous terrain."
He said his journey out of the jungle was unplanned. "Either I must paddle down river for a week or so – or enlist the help of the Yaifo, as I did last time," he said.
He added that he would be travelling without a satellite phone, GPS or companion, "because this is how I do my journeys of exploration".
In his last tweet from 11 October, Mr Allen wrote: "Marching off to Heathrow. I may be some time."
Read more: http://www.bbc.co.uk/news/uk-41994592